What is Taxi Advertising?
Taxi advertising is a form of outdoor advertising (OOH) that applies advertising on vehicles, here specifically, Taxis. Decals advertising the brand, media content will be pasted on different positions of the taxi, bringing brand images and products to reach countless customers. Instead of advertising on monotonous billboards or banners, you can now advertise on Taxis with mobility and creative images, making a strong impression on people.
Why choose the form of advertising Taxi?
Get closer to potential customers
Customers of taxi companies are potential businessmen, experts, office workers, etc. along with a large number of other road users will be able to access this ad. According to reviews, each passenger on average spends 30 minutes on each bus. Therefore, right from the moment you step into the car as well as throughout the journey, Taxi advertising will have an impact on images, messages as well as sound to customers by both active and passive.
Increase brand awareness
Information about products/services is presented succinctly, concisely, creative designs placed in the most conspicuous places along with continuous repetition to help the brand spread widely.
Easy to access even in remote areas
Taxis often carry customers to move flexibly and easily to suburban areas, rural areas, etc. This market is also very potential for service advertising industries such as telecommunications networks, food, healthcare, etc. insurance, etc. In particular, advertising VinaSun Taxis, advertising Mai Linh Taxis, etc., or advertising with other taxi companies are convenient and effective in reaching these geographical locations.
Support for other forms of advertising
Taxi advertising combined with outdoor advertising, online advertising or other media campaigns will help communicate effectively for businesses, optimizing brand coverage. From there, the brand slowly goes deep into the customer's mind, helping the business to have a better position.
Some strengths of Taxi advertising
Mobility: Taxis operate in a wide area, without route restrictions like buses
Distance: Average 200km/day
Hours of Operation: 24 hours/day compared to about 12 hours/day for buses
In addition to the general advertising effect with passersby, advertising also focuses strongly on the set of users who get on the car, which is a high-income class.
The cost and time of advertising is more flexible than the type of billboards and buses
Types of Taxi advertising
Car rear door overflow stickers (most popular position today)
This is the most common form of advertising that almost every taxi company accepts and businesses also choose it the most. The advertising position is at eye level so customers can easily observe and remember.
Paste the back door to the end of the car
This form of advertising is considered the most popular and used by many businesses today. Communication efficiency will increase because the large advertising area helps the brand convey more messages and images. The cost of this form will be higher than the form just pasted on the two rear doors.
Glue 4 car doors
With a large size, media publications will have more messages, more impressive images, and leave a bold brand impression in the minds of customers.
Paste the position of the small doorway
This form of cost is quite low, so it is also used by many businesses, helping to communicate more for the brand at a low cost. The advertising image will be pasted on the small triangular or quadrilateral glass on the side of the vehicle.
Stickers on the rear glass of the car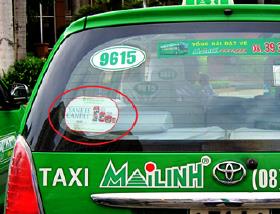 This form has similar characteristics to the position of a small window, an advertisement with brief information will be pasted on the rear glass of the car.
Position behind the seat
The form of advertising on the back of the car seat is designed in the form of a leaflet hanging bag; Advertising posters set the right vision and reach directly to customers.
Side glass overflow stickers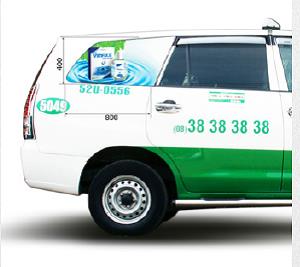 Advertising Led/LCD screen on the back of the car seat
This form has been deployed by most of the taxi companies; Bring a new experience in the process of riding. With 5, 10, and 15 minute TVCs, both help customers relax and bring high marketing efficiency.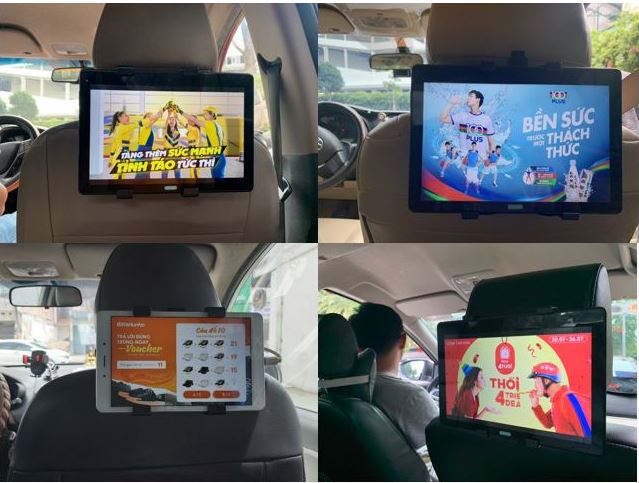 Prestigious Taxi advertising supplier and construction unit in Vietnam
To choose a reputable unit to advertise taxis; Customers will not help but hesitate when in the market there are many units providing this service. We would like to give some criteria that you can consider to choose the right ad unit.
The unit has experience: How effective are the advertising campaigns that the unit has implemented; What vehicle to cooperate with, what support services to provide, etc. From there, it is possible to evaluate the experience and capacity of the unit that wants to cooperate.
Reputable unit: Refer to the information of the advertising unit; warranty policy, discount policy; incentives, reviews of customers or partners, etc. From there, you can see the level of prestige that the company has in the market.
SHOJIKI is an advertising company with many years of experience in implementing outdoor advertising campaigns in general and taxi advertising in particular in Vietnam. We have familiar cooperation with large and popular taxi companies such as Taxi VinaSun; Taxi Mai Linh, Taxi Grab… Certified with credibility by trust; success of hundreds of domestic and international enterprises.
If you have a need to advertise Taxis in Hanoi, advertise Taxis in Ho Chi Minh and even all other provinces, you can contact us for dedicated advice and quotation. free of charge.
How do your ads appear on Taxis?
SHOJIKI Advertising Joint Stock Company – is proud to be one of the leading advertising agencies in Vietnam. We are committed to bringing you the most prestigious and effective advertising service along with:
Support service GENERAL CONSULTATION of advertising strategies
SUPPORT SERVICE FOR DESIGNING content, advertising images
The construction team deploys the advertisement FAST and ONLY
WARRANTY mode for the duration of the campaign
Attractive DISCOUNTS and SALES for customers
In addition, you can learn more about our other forms of outdoor advertising:
Outdoor LED Display
Signboards, billboards, panels
Airplane advertising
Service of gluing ads on taxis
Bus
Super app Grab Ads
Advertisement at gas station
Grocery store
You can survey prices and buy signs online at: WikiOOH
We measure the effectiveness of your outdoor advertising at: Compass Tech