Outdoor Advertising, such as transit ad, is effective because it is difficult to ignore. It is also memorable. Capitol Communications Group found that 81.7% of those polled recalled images they saw on a moving multi-image sign. This is compared to a 19% retention rate for static signs.
ADVERTISING ON TAXI:

The outdoor advertising channels such as billboards, signs, stores, posters and ect have been cut down and even been banned in the center of the cities and at the fixed periods of the year. Unlike a typical billboard, taxi are able to go directly to their target audience. They can be placed wherever there is automobile. They can repeat routes, ensuring that an advertiser's message is not only noticed, but that information is retained through repetition.
Since the quality of transport infrastructure remains a major challenge for the country, the citizen have to spend more time in the traffic regardless of their will.The most people stay in the traffic the most taxi advertising is effective.
A taxi move around 200 km/day and the system distributed throughout the country with approximately 40,000 vehicles active 24/24 and 7/7
Flexibility in classifying customers in groups according to geography, schedules, individuals and etc.
Target both user and no-user of the taxi with different type of ad :
REAR GLASS

REAR DOOR
REAR QUARTER GLASS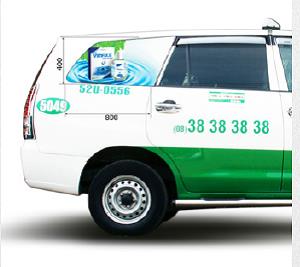 BACK GLASS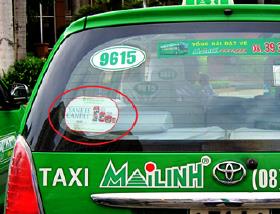 TAXI FRONT SEATS
There are other forms of advertising such as advertising on bus, advertising on the airplane, please kindly contact us for further information.