Specifications of outdoor LED advertising at AB Tower
Address

76 Le lai, District 1, Ho Chi Minh City

Area features

– Nice advertising area, clear observation space, not obscured by trees.

– The area  focuses on office buildings, restaurants, and hotels.

– Located on a major road, important intersections such as Nam Ky Khoi Nghia, Hai Ba Trung, Ba Thang Hai,…

– Attract the attention of 90% of road users.

– High-class customer file, densely populated

– There are about 107,911 traffic passing by every day (according to Compass Tech)

Dimension
19.5mH x 14.4mW = 280.8m2
Operating time

16h/ 1 day

Frequency

8 minutes/time/spot (about 240 spots/day) (each spot is 15s long)

Price

Contact: (+84) 933 15 99 88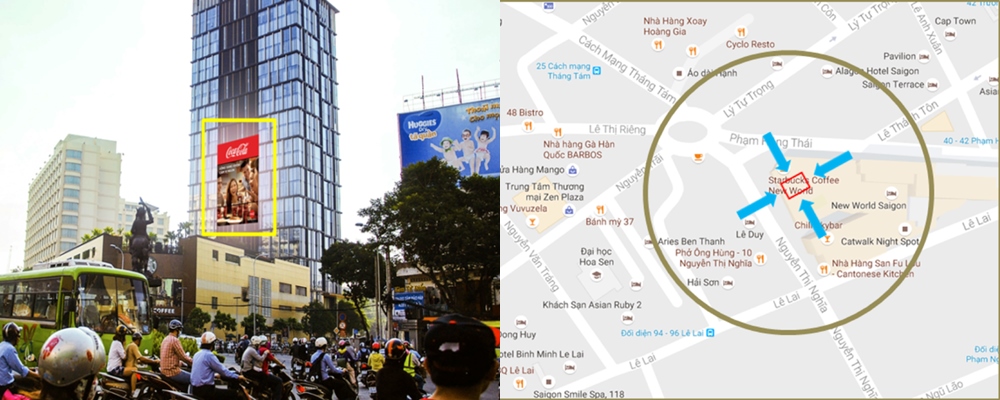 Outdoor LED advertising at AB Tower
To maximize the ability to reach customers, you should choose the location of outdoor advertising LED screens in places with high traffic density. Therefore, you can not skip the screen here. Why?
Outdoor LED advertising at AB Tower in a prime location on the front of Le Lai Street, District 1; near major and important roads of District 3 such as Nam Ky Khoi Nghia, Hai Ba Trung, Ba Thang Hai, …and Phu Dong roundabout. It can be said that this is an extremely convenient place to traffic through District 1, District 5, Binh Thanh District, Phu Nhuan District and other neighboring districts.
Therefore, the volume of vehicles moving through this road is very large, especially during the morning and afternoon peak times, the traffic flow is always congested. With this feature, your ad will reach a large number of passersby.
Report on outdoor advertising effectiveness (according to Compass):
This is a sample license at Ly Chinh Thang LED advertising location made by Compass, to have a detailed view of the outdoor LED advertising location at AB Tower, please contact Compass for more details here.
According to Compass Tech, the LED screen is located at AB Tower located in the key economic area of ​​District 1, so around this area are commercial centers, restaurants, hotels, bars, coffee shops and buildings office; making advertising of businesses with products and services aimed at these target customers more convenient and easier than ever.
Advertising at the LED screen at AB Tower is highly effective, rated A+ by Compass with good visibility in a luxury area with high traffic.
Extremely large screen area up to 280.8m2 with more than 16 million colors and a brightness of about 5500~8500cd/sqm, your advertisement can be illuminated even during the day, and become more vibrant and outstanding when at night.
There have been many big customers contacting advertising at this location and achieved great communication effect. And you?
About Digital Out Of Home advertising:
Digital Out Of Home becoming a new trend of modern advertising. It has many advantages over than other types of traditional advertising:
Vivid advertising content with many presentation forms: slides, videos…

Sharp, realistic images easily convey the message

Feel free to change, adjust the ad as you like

Integrated moisture-proof and heat-resistant technology to reduce maintenance costs significantly

Save more costs when you don't have to spend extra money on the production of outdoor hiflex canvas like traditional advertising
How can your ads appear on LED screen AB Tower?
SHOJIKI Advertising Joint Stock Company – is proud to be one of the leading advertising agencies in Vietnam. With the authorization from the city LED screen dealer, we are committed to bringing you the most prestigious and effective advertising service along with:
Support service

GENERAL CONSULTATION

of advertising strategies

SUPPORT SERVICE FOR DESIGNING

content, advertising images

The construction team deploys the advertisement

FAST

and

ONLY
WARRANTY

mode for the duration of the campaign
In short, LED AB Tower is a great advertising place for your business. That's why you should place your ads here. By contacting Shojiki, we will provide you with more detailed information about this LED.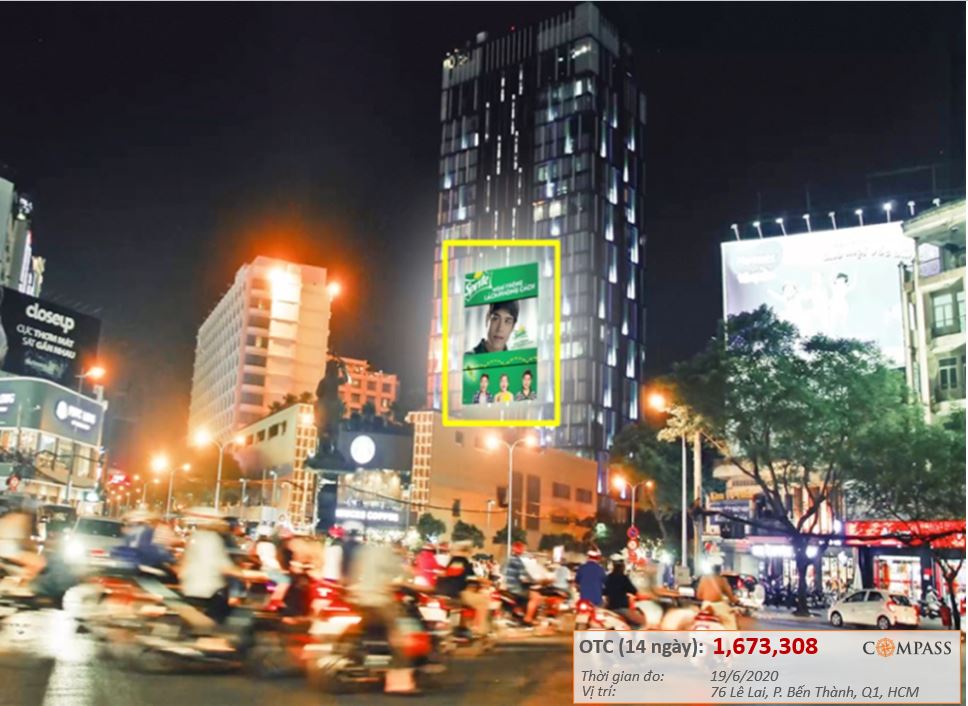 In addition, you can learn more about our other forms of outdoor advertising:
Advertisement on apps Grab
You can survey prices and buy online at: WikiOOH
We will measure the effectiveness of your outdoor advertising at: Compass Tech
Some customers have their campaigns on here