Advertising at convenience stores is one of the new forms, very suitable for brands who want to promote products in the current context. The more big brand names of convenience stores such as Circle K, GS25 or Winmart appear, the more this form of advertising is. Convenience stores along with drug stores are both places with steady daily traffic. Let's learn more about advertising at convenience stores with Shojiki.
1.What is convenience store advertising?
Convenience store advertising is the form of advertising on store shelves, posters hanging stickers, activation activities, sampling … Especially advertising by TV screens placed around convenience stores, helping to reach customers goods anywhere.
2.Features of advertising at convenience stores
The preeminent convenience store is exactly as its name suggests. The first thing worth mentioning is that most convenience stores are open 24/7, meeting most of the shopping needs of customers at any time of the day.
A convenience store is a retail business similar to a mini supermarket, but with a small scale and product portfolio, it only focuses on daily essentials such as fast food, soft drinks, other items. groceries, personal hygiene, etc., combined with some very convenient services for consumers such as selling phone cards.
Convenience store traffic is very crowded every day, suitable for many different brands
Therefore, this is a place where many potential customers gather, suitable for brands that want to advertise here at any time of the day, especially during the epidemic season.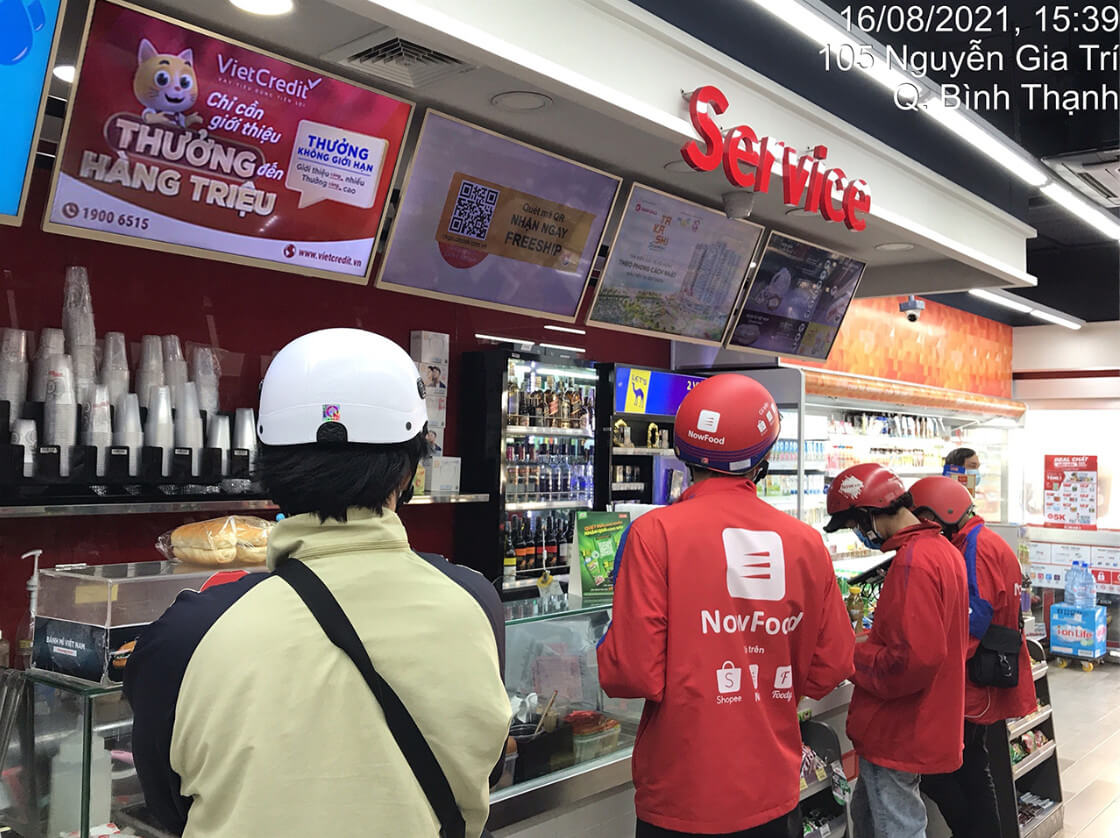 3.Forms of advertising at convenience stores
3.1. In-store advertising display
Advertising on TV screens, mounted on the checkout counter or around the store is considered the most effective form of advertising today for convenience stores. Brands can advertise vivid images and sounds such as: video; short clips, animations or beautiful images; attract viewers at the convenience store. This is the main form of advertising agency Shojiki with the combination with many different convenience stores such as Circle K, GS25, Family Mart… Shojiki will bring the best places to bring products and brands. of brands closer to consumers.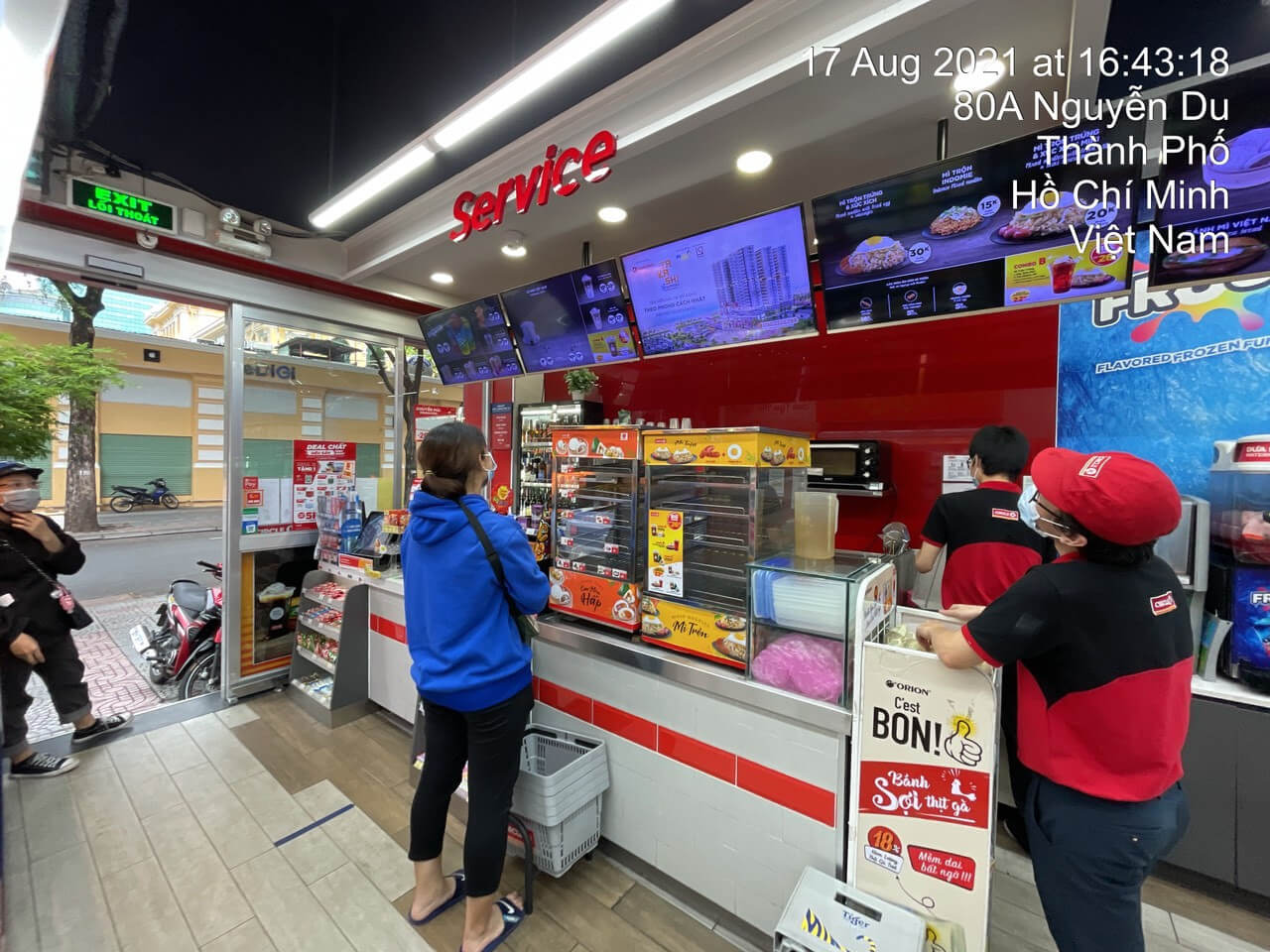 3.2. Poster
Poster is a simple form of information, used to advertise or promote the store itself. Posters are divided into many different types, suitable for the needs of product promotion of brands.
Advertising poster is a product designed with content, images and colors according to a certain idea to introduce the product and attract the attention of customers. Often used to promote the brand of the business.
Placing advertising posters will help reach customers when they first enter a convenience store.
3.3 Place the standee in front of the door
Standee is also known as standy. It is the name for the materials used in advertising. It can be understood simply that a standee is an item used to support and complement the hanging of advertising photos and small banners. Just like posters, standees are used to reach customers in front of the store or in the parking area.
3.4. Activation activities at the store
Shojiki has implemented a lot of activation activities at different locations. Various forms of advertising such as placing posters at the table, distributing sample products, consulting products at the counter…
3.5. Advertising on the stalls
When it comes to new product launches, in-store advertising is more important than ever. Advertising on the stalls will stimulate purchasing power from potential customers, thereby bringing effective marketing campaigns.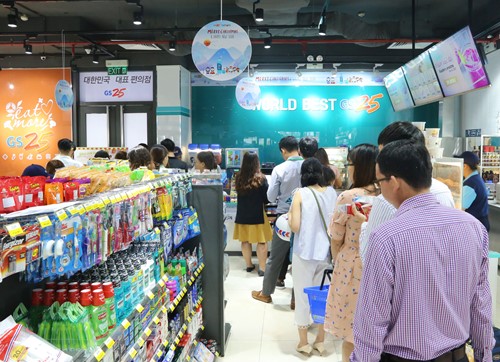 3.6. Other types of advertising at convenience stores such as: Wifi, audio, POSM, evoucher…
4. List of convenience stores in cooperation with Shojiki
4.1. Circle K
Circle K is the leading 24H convenience store chain brand in Vietnam. With about 400 stores nationwide such as: Hanoi, Ha Long, Hai Phong, HCM, Binh Duong, Can Tho, Vung Tau, Nha Trang, etc. Circle K's customers are more than 35% Gen Y&Z generation.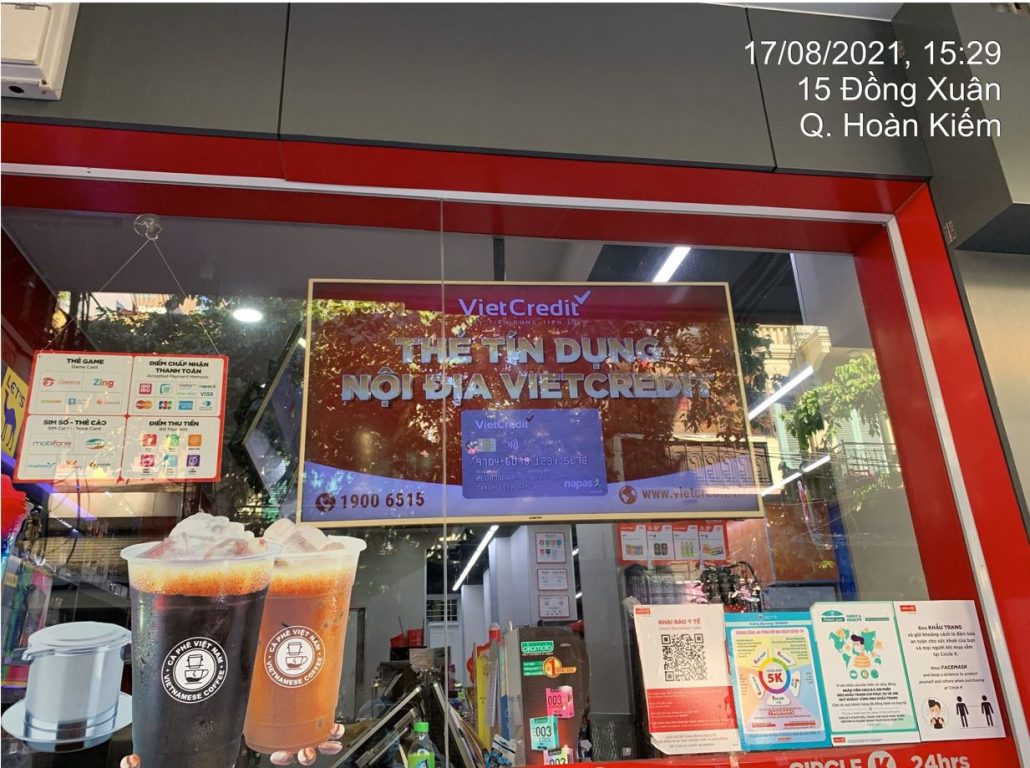 Currently, Shojiki exploits the following types of advertising at Circle K:
LCD Cashier counter area: Attract customers' attention when waiting for payment, highly effective
LCD area on the product display counter: Attract customers' attention when choosing items; highly effective
LCD Chiller counter area: Attract customers' attention when choosing items, highly effective
LCD area in front of the store: Attracting customers' attention when entering the store or waiting outside, highly effective
LCD Seating area (sitting): This is the location where the majority of customers are located, advertising is highly effective.
Advertising screens are mounted on product display shelves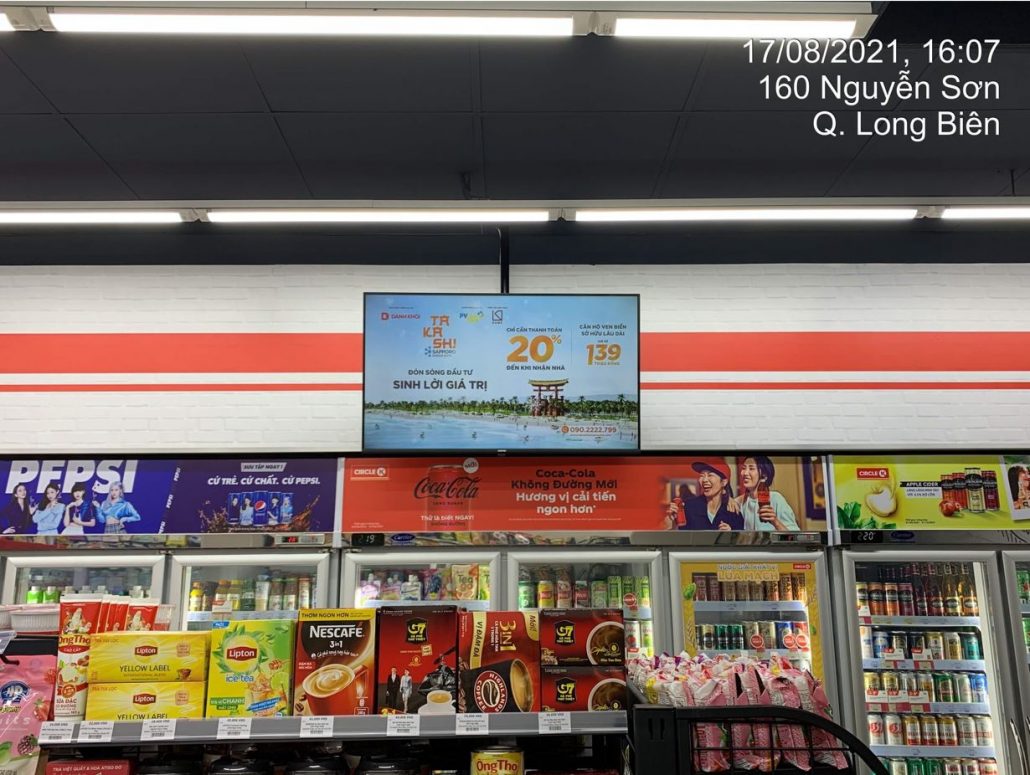 In addition, Shojiki also exploits other types of advertising such as wifi, audio, POSM, LCD, E-voucher ads…
4.2. GS25
GS 25 – Korea's leading convenience store chain is present in the dynamic retail market in Vietnam. With more than 121 stores in areas like HCM; Dong Nai, Vung Tau… Not only that number; GS25 also expands 4 new stores every month to better serve; meet customer needs. Currently GS25 is being distributed; offers a full range of products and services in the development of fresh processed foods; delicious, high quality and ensure food hygiene and safety at an affordable price.
Shojiki is exploiting the following types of advertising at GS25:
– LCD Cashier counter area
– LCD dining area
– LCD area facing the facade
Shojiki also exploits other existing advertising items such as: POSM, activation, sampling…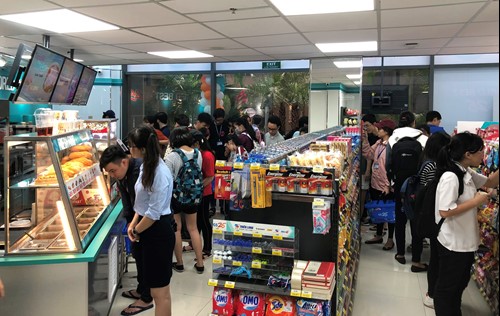 4.3. other convenient stores: Winmart, Ministop, B's Mar, 7-Elevent…
How do your ads appear at convenience stores?
Shojiki Advertising Company has many years of experience in the field of outdoor advertising; especially advertising at convenience stores. Currently, we are serving hundreds of customers including large corporations such as: Daiichi Life; Isuzu, Novaland, Traveloka, Nestlé, MBBank, Rohto, Keppel Land, Lotte Mart, OPC, The Gioi Di Dong, NovaLand… This is a great opportunity for brands; brands reach out to potential customers at convenience stores. We are committed to bringing you the most prestigious and effective advertising service along with:
Support service GENERAL CONSULTATION of advertising strategies
SUPPORT SERVICE FOR DESIGNING content, advertising images
The construction team deploys the advertisement FAST and ONLY
WARRANTY mode for the duration of the campaign
Attractive DISCOUNTS and SALES for customers
In addition, you can learn more about our other forms of outdoor advertising:
Outdoor LED Display
Signboards, billboards, panels
Airplane advertising
Service of gluing ads on taxis
Bus
Super app Grab Ads
Advertisement at gas station
Grocery store
You can survey prices and buy signs online at: WikiOOH
We measure the effectiveness of your outdoor advertising at: Compass Tech