Advertising mode of outdoor LED display
Outdoor LED screens are gradually becoming a new trend of modern advertising with many advantages that are superior to other traditional advertising types:
Vivid advertising content with many presentation forms: slides, videos, …
Images show sharp, true, easy to convey messages
Option to change, adjust ads as you like
Integrated anti-moisture, anti-heat technology helps reduce maintenance costs significantly
Save more money when you don't have to pay extra costs for outdoor hiflex canvas production like other traditional advertising forms.
Led screen AB Tower, 76 Le Lai District 1
And to maximize the accessibility of customers, you should choose the location of outdoor LED advertising screens in places with high traffic density. Therefore, you should not ignore the LED screen of AB tower at 76 Le Lai district 1. Why?
With a prime location located on the front of Le Lai Street, District 1; near the major and important roads of district 3 such as Nam Ky Khoi Nghia, Hai Ba Trung, Ba Thang Hai, … and Nga Sau Phu Dong. It can be said that this is an extremely convenient place to circulate through District 1, District 5, Binh Thanh District, Phu Nhuan District and other neighboring districts.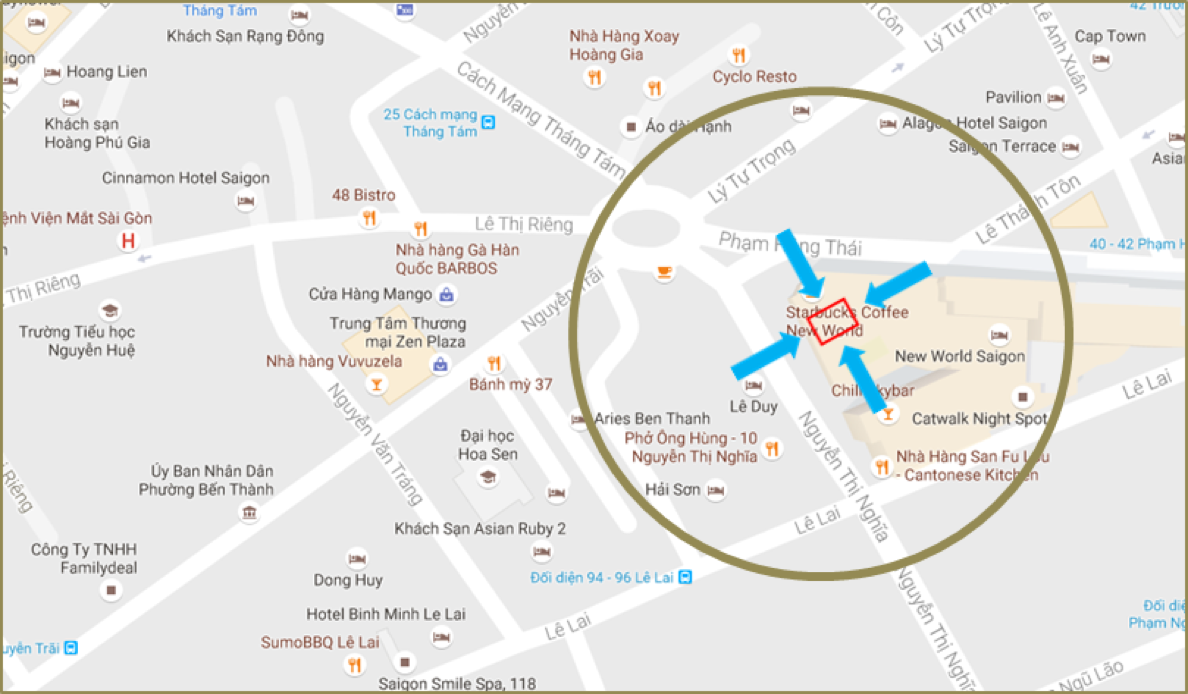 Good location of LED screen AB tower 
Therefore, traffic flow through this road is very large, especially during rushing hours in the afternoon, traffic flow is always congested. With this feature, your ad will reach a large number of road users.
In addition, because it is located in the key economic area of District 1, around this area are commercial centers, restaurants, hotels, bars, coffee and office buildings; making the advertising of businesses with products and services targeted to these target customers become easier and easier than ever.
More special; with a modern style design with open space, from the outside looking at the AB building, we will see like stacked windows, with 2 main blue and white colors and more than 90% of the court surface The house is fitted with high-strength reflective glass and luxurious marble-clad body to help the building and advertising LED screen here to be more prominent and impressive.
Large screen area up to 280.8m2 with more than 16 million colors and brightness of about 5500 ~ 8500cd / sqm, your ad can be illuminated even during the day, and even more brilliant and outstanding at night.
Your ad will always stand out regardless of day or night
Technical specifications of LED screen AB Tower, District 1:
Size:                                      14,4m x 19,5m = 280,8m2
Operation time:                     16 hours / day
Advertising duration:            each spot is 15-30s
Frequency of advertising:    8 minutes/time/spot (about 120spots/day)
There have been many large customers contacting advertising at this position such as Samsung, Emirates, Coca cola, VPBank, Tan Hiep Phat, … and achieved great communication efficiency.
And you?
How do your ads appear on LED screens in AB tower, District 1?
Please contact us – SHOJIKI Advertising Joint Stock Company – is proud to be one of the leading advertising units in Vietnam. With the authorization from city LED dealer, we are committed to bringing you the most prestigious and effective advertising service together with:
GENERAL CONSULTING support services advertising strategies
DESIGN SUPPORT SERVICES content, advertising images
The construction team carries out advertisements QUICKLY and TRUE
WARRANTY REGIME during the campaigns
Prefer attractive promotions and CONCEPTS for customers
Beside LED screen location in AB building, District 1; We also own other  other convenient LED display locations:
LED Saigon Bridge, District 2
Nga Sau Phu Dong LED, District 1
Truong Son LED, Tan Binh District
LED 120-122 Le Loi, District 1
LED 14 Le Lai, District 1
Contact us for advice immediately!
Address           80 street 17, An Phu ward, District 2, Ho Chi Minh
Hotline:         02862758600
Email:           [email protected]
Website:        shojiki.vn